Home Cinema Bliss: Building a Stunning Entertainment System on Any Budget
===
Imagine stepping into a world of cinematic wonder, where you can immerse yourself in the action, drama, and laughter of the silver screen without ever leaving the comfort of your own home. With a stunning home entertainment system, you can transform your living room into a haven for movie lovers. Whether you dream of a high-end theater experience or are working with a tight budget, creating your own home cinema is within your reach. Get ready to grab your popcorn and buckle up for a thrilling ride as we explore how to build an incredible entertainment system on any budget!
Dream Big: Transform Your Living Room into a Home Theater Haven!
When it comes to creating a jaw-dropping home cinema, the sky's the limit! Begin by envisioning how you want your space to look and feel. Consider the layout, seating arrangement, and overall ambiance you desire. Invest in a large flat-screen TV or a projector and screen for an authentic theater feel. Don't forget about sound – a surround sound system will transport you into the heart of the action. Opt for comfortable seating, such as reclining chairs or a cozy sofa, to enhance your viewing pleasure. With a little imagination and planning, you can turn your living room into a home theater haven that will impress even the most discerning movie enthusiast.
Lights, Camera, Action! Creating Movie Magic in Your Own Home.
To truly capture the essence of a movie theater, lighting is key. Install dimmer switches or invest in smart lighting solutions that allow you to adjust brightness and color. Consider adding starry ceiling lights for a touch of Hollywood glamour. To avoid distractions, ensure that your room can be darkened easily. Heavy curtains or blackout blinds are excellent options. Create a designated space for your entertainment system by organizing cables and accessories neatly. By paying attention to these details, you can recreate the magic of the movie theater right in your own home.
Blockbuster Vibes on a Budget: Crafting Your Perfect Home Cinema.
Don't let a limited budget deter you from creating an impressive home cinema experience. Start by prioritizing the essentials – a good quality TV or projector, decent speakers, and comfortable seating. Look for sales or consider purchasing second-hand equipment to stretch your budget further. DIY options, such as building your own projector screen or repurposing furniture, can also save you money. Keep an eye out for promotions or discounts on streaming services to enjoy a wide variety of movies without breaking the bank. Remember, the most important thing is to create a space that brings joy and entertainment to you and your loved ones, regardless of the price tag.
The Ultimate Movie Marathon: Unleashing the Joy of Home Entertainment.
Now that you have set up your dream home cinema, it's time to unleash the joy of home entertainment with the ultimate movie marathon! Stock up on your favorite snacks, pop some popcorn, and settle into your cozy seats. Create themed movie marathons or explore different genres to keep things exciting. Invite friends and family over for a memorable movie night experience. With your state-of-the-art home entertainment system, you can enjoy the magic of cinema whenever you desire. Get ready to laugh, cry, and cheer as you embark on an unforgettable journey through the world of movies, right in the comfort of your own home.
===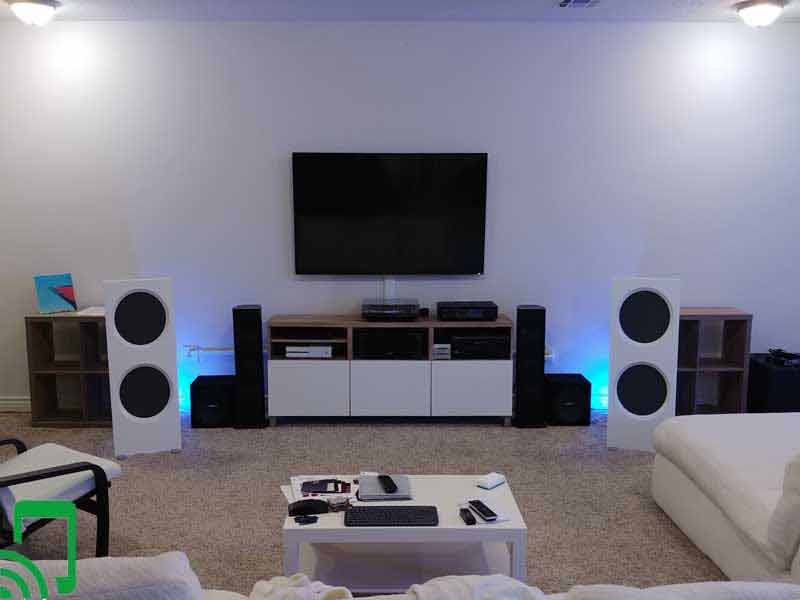 Vizio39s 512 Mseries system 500 normally currently 350 at Best Buy has everything you39d want A powerful soundbar equipped with two Dolby AtmosDTSX height channels a wireless subwooferBy Will Greenwald Updated March 16 2022 Home theater systems can easily cost many thousands of dollars even if you set up the hardware on your own If you add a professional custom installerFor less than 1000 our favorite Budget 4K TV and Budget soundbar will offer a huge step up in quality from most existing setups and leave enough money in the Budget for a media player and Choosing a Wireless Surround Sound System All the best home entertainment systems feature an excellent surround sound system The standard sound system size for a cinemaquality experience is 71 71 surround sound systems include a subwoofer
and seven channel speakers14022021 0600 AM How to build a brilliant home cinema on a Budget A cutprice projector a sub100 soundbar a 65inch TV so cheap the price looks like a misprint This is the bestvalue kitPioneer SPPK52FS Andrew Jones Speaker Set 508 51 bookshelf set Onkyo TXNR636 72Ch Dolby Atmos Ready Network AV Receiver 365 Logitech Harmony Home Control 97 2000 is a pretty good Budget to do a medium sort of entrylevel home theater said Kerry Bright of Bright Home TheaterThis much quality will cost you though The Epson Home Cinema 4010 is just under 2000 But if you have the money and want an amazing home theater its worth investing in an awesome projector 7Setting Up a BudgetFriendly Home Theater A Complete Guide April 4 2023 Denisse Garcia Imagine the lights are off the popcorn is
popped and youre snuggled into position for another family movie night at home A home theater system is an enjoyable way to add luxury excitement and the ultimate moviewatching comfort to your house
Building a stunning entertainment system on any budget is an achievable dream. By dreaming big, paying attention to the details, and being resourceful, you can create a home cinema that rivals any professional theater. Let your imagination run wild and enjoy the magic of the movies in the comfort of your home. Whether you choose to splurge or save, the joy of home entertainment is sure to bring endless hours of bliss to you and your loved ones. So, grab your remote control and get ready to embark on a thrilling adventure that will transport you to a world of cinematic wonder!