On-the-Go Tech Essentials: Must-Have Gadgets for Travel Enthusiasts
Are you a travel enthusiast always on the lookout for the latest and greatest gadgets to enhance your adventures? Look no further! We have curated a list of must-have tech essentials that will take your on-the-go experiences to a whole new level. From the wanderlust toolbox to the ultimate on-the-go gizmos, these gadgets are sure to light up your travel adventures and make you a tech-savvy globetrotter. So grab your backpack, buckle up, and get ready to embark on an exciting journey filled with innovative travel gadgets!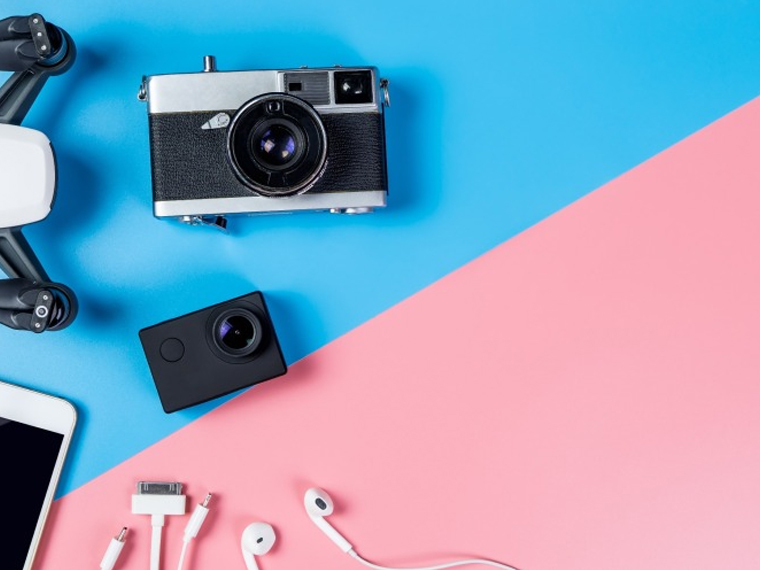 1. The Wanderlust Toolbox: Unleashing Tech Magic on the Move!
No travel enthusiast's backpack is complete without a few essential gadgets. A portable charger is a lifesaver, ensuring that your devices never run out of battery during long flights or road trips. Pair it with a multi-device charging cable, and you'll be able to power up all your gadgets at once. Additionally, a compact and lightweight Bluetooth speaker is perfect for enjoying your favorite tunes wherever you go, and a durable portable Wi-Fi hotspot ensures you stay connected no matter where your wanderlust takes you.
A versatile travel adapter is another must-have for any tech-savvy traveler. With different plug options and USB ports, it becomes your universal power source, making sure your gadgets are always charged and ready to go. To keep your belongings safe, invest in a smart luggage lock that can be easily controlled through your smartphone. Lastly, don't forget a trusty travel router to create your own secure Wi-Fi network during your trips.
2. Jetsetter's Delight: Gadgets that Light up Your Travel Adventures
For those who want to capture and immortalize their travel adventures, a high-quality action camera like a GoPro is the ultimate companion. Its compact size, waterproof capabilities, and stunning image quality make it perfect for capturing breathtaking moments while hiking, surfing, or exploring new destinations. Additionally, a drone can take your photography to new heights, allowing you to capture stunning aerial shots of the landscapes you encounter along the way.
To keep your memories organized, a portable hard drive or a cloud storage service allows you to back up your photos and videos on the go. And for the aspiring filmmakers, consider investing in a compact and versatile smartphone stabilizer that will transform your smartphone footage into smooth and professional-looking videos.
3. Tech Savvy Globetrotters: Embrace the Ultimate On-the-Go Gizmos
For travelers who rely heavily on their smartphones, there are a few gadgets that can enhance your mobile experience. A power bank phone case not only protects your device but also keeps it charged throughout the day. Furthermore, a pocket-sized photo printer allows you to instantly print your favorite travel snapshots and create tangible memories to share with fellow travelers.
To overcome language barriers, a compact language translator is a game-changer. With real-time translation capabilities, you can communicate effortlessly with locals and immerse yourself in different cultures. And to stay fit while on the move, a smartwatch with fitness tracking features enables you to monitor your health, track your steps, and even navigate unfamiliar routes.
4. Adventure Awaits: Essential Travel Gadgets for the Modern Nomad
For the modern nomad seeking thrilling adventures, there are a few gadgets that will enhance your experiences. A compact and waterproof Bluetooth speaker is perfect for outdoor activities, providing a soundtrack to your adventures. Additionally, a portable solar charger allows you to harness the power of the sun and keep your gadgets charged even in the most remote locations.
To document your adrenaline-pumping activities, a 360-degree camera captures immersive footage, allowing you to relive your adventures in virtual reality. And for those who love camping, a portable water purifier ensures you stay hydrated with clean and safe drinking water throughout your journey.
The 2022 update is lighter than ever with an improved Paperwhite screen which is really the only way to read books on an electronic device It also has more storage 16GB which is enough for1 Tech Pouch Cable Organizer Digital nomads are called digital nomads because they earn their income online while traveling and living a modern nomadic life And working online means technology and gadgets which means cables lots and lots of cables which is why a tech pouch is at the top of my digital nomad gear listThese are the travel essentials you need according to tech and travel experts Traveling this summer Here are the tech products experts recommend you take with you to beat the frenzySony Cybershot DSCRX100M III 800 The most powerful pointandshoot camera you can buy is also one of the most
expensive but the Sony Cybershot RX100M III is a fantastic pick Small enough In this blog post we will delve into the musthave travel gadgets that will enhance your travel experience and keep you powered up on the go From smartphones to portable chargers these essential devices will ensure you stay connected capture memories and navigate unfamiliar territories with ease I Smartphones Your AllinOne Travel Twelve South AirFly Pro 55 at Amazon 58 at Walmart Simply put it39s a TikTok viral gadget that39ll connect your AirPods or any wireless headphones and earbudsto the airplane TV A godsend forYou can use it as a shawl to keep warm a blanket while you sleep even as a pillow folded delicately into a tight little square It also looks great when you step off the plane wearing a chic Anker
Soundcore Life Q30 The Life Q30 offer long battery and noisecancelling on a budget Photograph Anker RRP 80 deals from 60 For a budget version Ankers Soundcore Q30 offer Bluetooth
As a travel enthusiast, embracing the world of on-the-go tech essentials is a game-changer. These gadgets not only enhance your travel experiences but also allow you to capture and share your adventures with the world. Whether you're a jetsetter, a globetrotter, or a modern nomad, the must-have travel gadgets listed above will surely add a touch of magic to your journeys. So pack your bags, embark on new adventures, and let these tech marvels accompany you every step of the way. Happy travels!